If using a mortgage for the purchase, you will need a pre-approval letter to view listed homes.
CLICK:
Pre-APPROVAL LETTER
A letter from your lender indicating that you qualify for a mortgage of a specific amount. This is a critical step in today's competitive market so make sure you have your letter ready to go!
*This take just a few minutes on the phone and has no cost or obligation from you.
*If you'll be paying cash for a property, you'll need a proof of funds statement instead.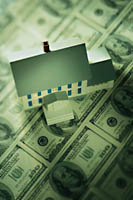 If you're like most buyers, a home is the most expensive purchase you'll ever make, and you'll probably need some form of financing.
Use the mortgage calculators below to assist you in making some decisions around financing your new home.
---
Mortgage Payment Calculator & Amortization Table
CLICK: Mortgage Calculator
This calculator will help you determine what your mortgage payments will be based on purchase price, interest rate and mortgage term, as well as other factors. The amortization table shows what the interest and principal payments will be over the term of the mortgage.
One of the most important steps in the home purchase process is financing. Before you begin looking for a home, you should interview lenders, hire one, get pre-approved and begin the mortgage approval process. This is important to start before you look at homes because you will find out the price range. Your lender will also be able to answer any questions you may have about mortgage payments, interest rates, closing costs, etc.
Finding a lender that you can trust is very important!
So, we recommend you call one you like or Jim Franco at:
Welcome Home Finance (724) 772-3333 ext. 2114

*
There is no cost, no obligation, and it only takes approximately five minutes on the phone to get it or gain the understanding of how to get it.
QUESTIONS TO ASK YOUR LENDER
•
What's the best loan for me?
•What's an estimate of my closing costs?


•Are there any special programs available for me?


•What mortgage rate do I qualify for?
*Financing options and rates can vary widely, so it is important to do your research and shop around to ensure you get the mortgage that best meets your needs at the best price.
Be prepared to provide:
6 DON'TS OF MORTGAGE APPROVAL
Here are some of the biggest things to avoid after applying for a mortgage
Don't Deposit Cash Into Your Bank Account Before Speaking with Your Bank or Lender Lenders need to be able to trace money sources and cash is not easily traceable!
Don't Make Any Large Purchases Like a New Car or Furniture for Your New Home High debt-to-income ratios may make you a risky borrower or unqualify you for a loan. If possible, avoid any big purchases during the loan approval process.
Don't Co-Sign Other Loans for Anyone Even if you promise you won't be the one making the payments, your lender will have to count the payments against you.
Don't Change Bank Accounts Remember, lenders need to source and track your assets. Before you transfer any money, speak with your loan officer.
Don't Apply for New Credit Anytime you inquire for new credit, your FICO score is negatively affected. Lower credit scores can determine your interest rate and maybe even your eligibility for approval.
Don't Close Any Credit Accounts A major component of your score is your length and depth of credit history. Closing accounts has a negative impact on both of those determinants of your score.
KEY TERMS TO KNOW
Appraisal A professional analysis used to estimate the value of the home. This is a key step in the loan approval process.
Closing Costs The
fees required to complete the real estate transaction. Paid at closing, they
include: points, taxes, title insurance, financing costs & prepaid or
escrowed items
Credit Score A number ranging from 300-850 that's based on an analysis of your credit history. This helps lenders determine your mortgage loan terms.
Down Payment Down
payments are typically 3-20% of the purchase price of the home. Some 0% down
payment programs are also available
Mortgage Rate The interest rate you pay to borrow money when buying a home. The lower the rate, the better!
The Closing Process:

Once you have found the home you want to buy, there are several additional steps you need to take to close the sale after the purchase and sale agreements have been signed.
Step 1.

Contingency removal:

The most common contingencies are inspection, financing and the sale of your current home. These conditions must be removed or waived in writing before the sale on your new home can close.
Step 2.

Appraisal :

Your lender requires a formal appraisal to confirm the value of the home you're buying, to use as collateral to secure the loan. * Your Mortage Company will set it all up to be done for you.
Step 3.

Preparation of all Closing Documents and Title Insurance:

The title insurance ensures that the seller has clear title to the property and has the right to transfer ownership to you. *Your Settlement Company will be arranged with your Mortgage Broker and will prepare all the documents, Prorate funds and Prepare the Deed, etc. needed to complete the transaction for closing.
Step 4.

Closing time / Final Settlement:

Signing of closing documents and final funds dispersed to the seller and YOU GET THE KEYS TO YOUR NEW HOME!
There are many opportunities for surprises or delays in a transaction. Part of our expertise is trouble-shooting any problems that may arise in the closing process, including anticipating and preparing for potential problems before they arise.
WE GET YOU FROM WHERE YOU ARE
TO WHERE YOU WANT TO BE!